Under balmy skies Buccaneers suffered a first defeat of the season at Lindfield CC.
Skip won the toss and elected to have bat. Scoring 275 in 40 overs should have seen Buccs home comfortably but the much heralded Buccs bowling attack struggled to contain belligerent Lindfield batting. There was a significant selection error in the 'keeper department and byes were not our friend. Coupled with a dose of collective Buccs butter fingers and Lindfield reached their target with 4 wickets down with 9 balls to spare.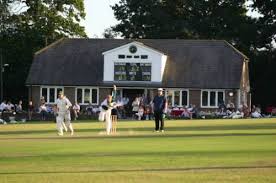 Let's dwell on some fine batting from Rob Rydon (66) and Angus Berry (89) and Stephen Moules (72) who all put bat to ball and dismissed the village attack. Stephen timed several strikes particularly well including shot of the day a rasping cover drive a la Jason Roy. At the half-way stage Skip was very pleased and the tea was particularly good too!
Some basic maths suggested that Lindfield needed just shy of 7 an over and Buccs were blessed with 7 good seamers and a couple of spinners to stop the flow of runs. The Twineham twins Matt and Jim opened up but the first 10 overs went for 70 odd, with a wicket to Matt. Dot balls were rare and runs continued to flow from a Buccs newcomer Nick (Monty) Macpherson. We could see some class buried deep, but the action was a bit rusty after 25 years in the cupboard. A semblance of control was provided by the best Buccs bowler of the day Tom Rydon who bowled 2 Lindfield batters and had their 13-year-old centurion dropped on consecutive balls. Neil Robertson held his hand up in apology, but they are always difficult in the slips off a full-blooded drive.
After 20 overs Lindfield were 140 odd for 3 and looking good. The 20 overs that followed were not brilliant from the Buccs with a continual stream of boundaries and a couple of byes. The consensus is that wicket keeping looks easy, but it is not. Angus Berry took over the gloves and declared at one stage "this is the least amount of fun one can have on a cricket pitch"
The theme seemed to be that the faster we bowled at the them the faster the ball sped to the boundary. Buccs debutant Angus McGougan bowled at lively pace but saw his best balls caressed on the up through to offside. Again, the talent was there but a little rust on the action allowed Lindfield to continue to score. There was just time for the prep school moment of the match when Skip and Angus Mc "G" managed to collide mid pitch as they both tried to catch the same sitter. It was spilled and that just about summed up the Buccs fortunes in the field for 21 July 2019.
Congratulations to the young lad Alex (aged 13) who was 114* at the end and Geoffrey Lawrence for seeing his side home to win the Mark Lawrence memorial trophy.
Lindfield won by 6 wickets.
Innings of The Buccaneers
R Rydon ct Chowdrey b Storey 66
McPherson ct b Hewett 11
A Berry stumped b Chowdrey 89
A McGougan ct G Lawrence b Morrison 12
S Moules Not out 72
H Robertson ct b Hewett 11
N Robertson not out 2
Extras 12

Total: 275-5 (40 overs)
FOW: 1-32, 2-149, 3-188, 4-191, 5-262

Bowling
Hewett 8-0-47-2
Pedley 8-0-68-0
Chowdrey 8-0-65-1
Lawrence 1-0-16-0
Weir 8-2-26-0
Storer 4-0-38-1
Morrison 3-0-14-1
Innings of Lindfield
C Weir b Edwards 10
T Chowdrey b Simon 19
A Pedley Not out 114
M Hewitt b Edwards 34
A Osborne b Rydon 29
G Lawrence Not out 35
Extras: 45
Total 276-4 (22 overs)

Bowling
M Edwards 5-0-33-1
Simon 5-1-38-1
N McPherson 4-0-33-0
R Rydon 7-0-44-2
J Milne 6-0-26-0
McGougan 5-0-45-0
S Moules 3-0-23-0
H Robertson 1-0-11-0