Buccaneers 213 for 6 dec. OHJ 152 for 9. Match drawn
Conditions were windy. So windy that the covers had been blown apart overnight and left a nasty damp patch at one end. After a bit of tutting from the umpires, it was decided to take an early lunch.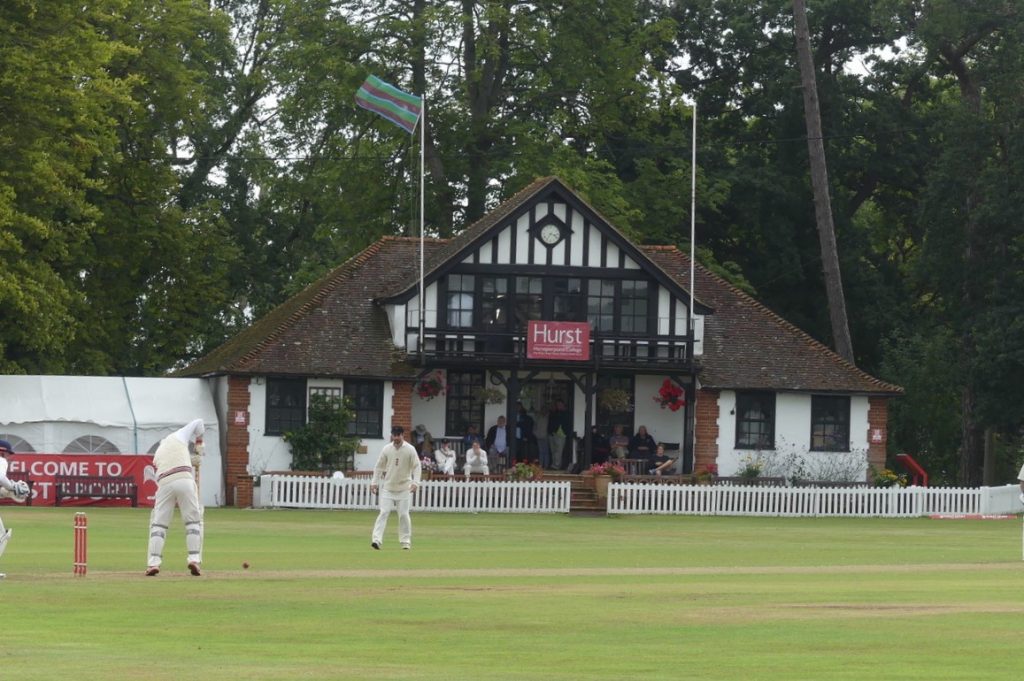 Play started at 1.30pm with the captain opening the batting with his middle son. All proceeded smoothly with a fifty run partnership (including a lot of wides). Then things didn't proceed so smoothly as both Rydons got out and Tom Fletcher departed for a duck. Then things got even worse as the wind and rain forced the players off. On return, Eswar Kalidasan steadied the ship with Jim Mann and when Jim got out to a good catch at mid off, we were entertained with the (just under 50 run ) partnership of Stephen Moules and Eswar.
They took a particular liking to Stuart Hall, the off spinner, with Eswar slog sweeping him into the pavilion fence for six, in particular sticking in the memory. Once he was out for 51, a succession of young Marsh's aided Stephen in launching the total over 200.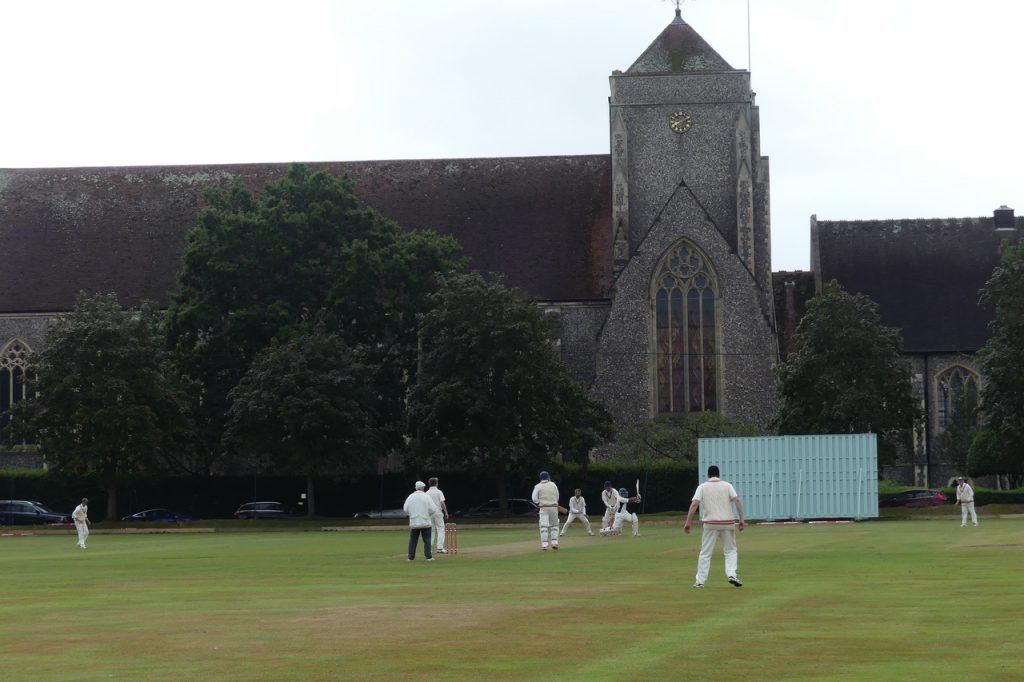 Tea was taken in high spirits and a team photo, including heroes from yesteryear, was taken. Then on to the cricket, with Harry Mann steaming in from the top end and Jack Bebb swinging it up hill into the wind. OHJ's were not going to die wondering and Mr Pilgrim came out of the blocks quickly. A sharp dropped catch in the slips was soon forgotten as Harry elicited a top edge, safely pouched by Tom F. After this excitement and another wicket from Harry we turned to the youth policy. First with some spin from James Marsh and then some inswing with Tom Rydon. These spells changed the game with Tom starving the oppo of runs and getting a wicket too and James bowling a masterly stint of off spin and getting a wicket in each of his first four overs. He went on to get a 'five for'.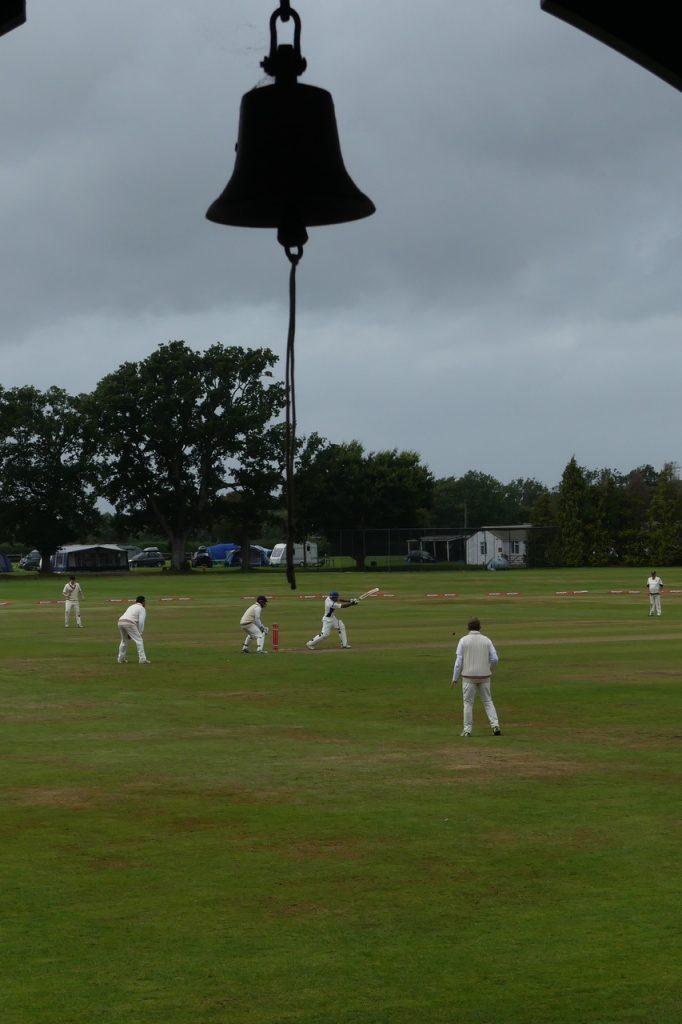 Archie bowled some leg spin from the bottom end and we felt confident of wrapping up proceedings as we had them 8 wickets down. However, Mssrs Burstow and Noble had other ideas for the OHJs and they put on a fifty run partnership. Harry came back on up the hill and in the final over nipped one back to hit the off stump. Two balls left. The number eleven swung and missed at his first attempt but sadly the ball missed the stumps too. He masterfully left the final ball to earn a hard won draw.
A huge crowd gathered to hear the closing speeches and listen to the Last Post as the flag was lowered on the fiftieth OHJ's vs Buccanneers match.
Innings of Buccaneers
A Rydon ct Burstow b Burstow 16
R Rydon ct Pilgrim b Burstow 30
E Kalidasan ct Harrison b Kenney 51
T Fletcher ct Pilgrim b Burstow 0
J Mann ct Wilsden b Kenney 12
S Moules not out 65
A March ct Harrison b Hall 4
J Marsh not out 4
Extras 31
Total: 213-6 dec
FOW 1-57, 2-67, 3-67, 4-106, 5-155, 6-168
Bowling
D Burstow 10-3-29-3
R Noble 4-0-17-0
P McGahan 9-0-38-0
F Kenney 11-1-56-2
S Hall 8-0-60-1
Innings of OHJ
E Welsh ct A Marsh b J Marsh 13
J Pilgrim ct T Fletcher b H Mann 28
S Hall lbw b H Mann 17
M Harrison ct H Mann b J Marsh 27
R Willsdon lbw T Rydon 0
O Meredith ct J Mann b J Marsh 3
S Warrender b J Marsh 6
R Noble not out 21
F Kenney ct A Marsh b J Marsh 2
D Burstow b H Mann 32
P McGahan not out 0
Extras 3
Total 152-9
FOW 1-31, 2-55, 3-68, 4-68, 5-71, 6-91, 7-96, 8-100, 9-152
Bowling
H Mann 11-1-48-2
J Bebb 5-0-24-0
T Rydon 4-1-8-1
J Marsh 11-1-54-5
A Marsh 5-1-16-0
R Rydon 2-2-0-0