Buccaneers 281-8 dec
Hurlingham Club 115 all out
Buccs won by 166 runs

On Sunday 16th June, we awoke to a slightly damp morning, but luckily the sometimes trigger happy Hurlingham CC groundsmen were happy for us to continue with a declaration game. On arrival at the ground, it was impossible not to notice the 25 metre square boundary on one side, complete with a tree, which is to be treated as a blade of grass in the field. The dampness caused a 30 minute delay to the 11am scheduled start while we waited for the final shower of the morning to pass with the usual road beneath the covers safe and sound.
Buccaneers lost the toss and were put into bat by the Hurlingham Club. Hurlingham said they were depleted at first but ended up with 14, rolling on and off subs to support a couple of Hurlingham U70s in action. Buccs opened the batting with Ludo Milne and Chris Leech, who both started to look comfortable until Ludo scooped one to square leg in the 5th over.
Buccs overseas, James Crichton (44) then joined Leech at the crease and they put on an impressive stand of 70-odd before Crichton and then Leech (43) fell to a couple of loose shots caught in the ring. Both will feel like they left their half centuries and possibly more out there. After a blistering 4 from 32 balls by Wicket Keeper Harcourt and a even faster duck from Milne senior, Berry and Moules were at the crease and worked on a crucial middle order partnership to steady the ship. Angus played a steady innings all the way up to his half century, brought up with a lovely four, only to then fall the next delivery for 52. Stephen Moules hit some glorious flowing strokes and hit an impressive 74 from 67 including 9 fours and 2 sixes. Will Noble also came to the party with a handy 27 and Simon Leefe came to the crease with orders to open up for one more over at which point Moules fell and the Buccs declared on 281-8 leaving W. Metcalfe seething that he couldn't unleash his Yorkshire 'Blacksmith's Son' cow corner swipes.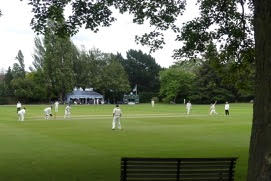 Hurlingham came out to bat with a fairly tall order to chase and Buccs we keenly warming up in the field as their two openers came to bat. Most of the field were a few Wimbledon Pale Ales down which I'm sure only served to loosen the muscles even further and produce a fine fielding display.
Will Noble and Stephen Moules opened up our pace attack and Moules struck early with the fourth ball of the innings bowling out their Wicket Keeper opener.
The second wicket took a little longer after a 40 run partnership when Will Noble took the number three out of the game. First change of attack was provided by Will Metcalfe whose cunning standard slower balls really troubled the Hurlingham batting line up from top to bottom order. The fourth wicket fell with 75 runs on the board and just 30 runs later the 9th was falling. Will bowled tremendously ending up with 5 wickets, getting on the honours board at Hurlingham (especially for bowling) is no mean feat. He was supported by some brilliant bowling from Simon Leefe whose economy was even more remarkable given the 25 metre boundary mentioned at the top of this report. Our vicious attack bowled out Hurlingham Club for just 115 runs which gave the Buccs a convincing victory and a welcome result after a few difficult years against Hurlingham. The match was well supported by friends and family and committee members and as always The Hurlingham Club was welcoming and a fantastic central London venue to play cricket, eat well and take on a few beers after the match.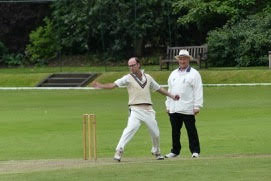 Full scorecard can be found here: