Remote match manager Richard Hobbs was pleased to receive the news* that Buccaneers made it two-from-two for the 2020 season with a 67 run win in a low-scoring game at Follies Farm on 6 September. Eswar Kalidasan (52) was the standout Buccs performer with the bat, but a lack of long partnerships and a cascade of middle and lower-order wickets saw us bundled out for 128 in 34 overs. Buoyed by some delicious ham sandwiches (meat sourced from the pig farm attached to the ground) at tea, Will Metcalfe and Caspar Milne each bowled eight overs of accurate and miserly inswing, taking regular wickets with the support of some excellent catching and ground fielding. Will finished with five wickets and Caspar two. Rob Rydon roared in off his short run to clean up the tail in double quick time – Follies Farm Old Spots all out for 61 allowing Buccs ample time to savour their post-match sausage rolls and ale in the glorious evening sunshine.
A selection of 'action' shots from the game courtesy of El Presidente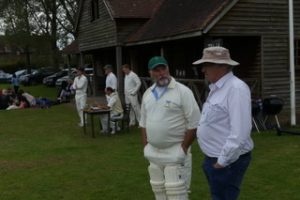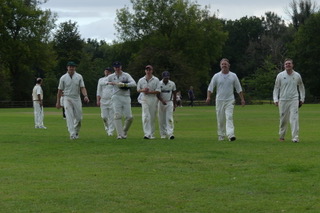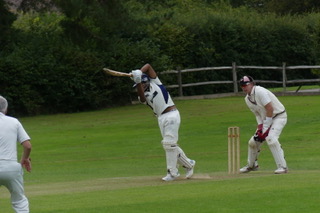 *Richard sadly was unable to fulfil his duties due to travel quarantine restrictions
Innings of Buccaneers
J. Milne b. De Bruyne 5
A. Rydon ct. CSD b. De Bruyne 12
A. Berry ct. [Unknown] b. M. Barson 25
E. Kalidasan b. Roland 52
C. Leefe ct. CSD b. M. Barson 8
S. Leefe b. M. Barson 0
R. Rydon b. Meadows 1
C. Milne c. Grant b. Meadows 0
W. Metcalfe lbw M. Barson 18
T. Fletcher not out 1
D. Close ct. [Unknown] b. T. Barson 0
Extras 6
128 (all out, 34 overs)

Follies Farm Old Spots CC bowling
Roland 7. 2. 1. 19.
De Bruyne 6. 1. 2. 16.
M. Barson 7. 0. 4. [Unknown]
Bell 5. 0. 0. 39.
Meadows 4. 2. 2. [Unknown]
Grant 4. 1. 0. 11.
T. Barson 1. 0. 1. 1.
Innings of Follies Farm Old Spots CC
B. [Crugs] b. Metcalfe 16
[Lumley] b. Metcalfe 0
T. [?] lbw C. Milne 1
M. Barson ct. [Unknown] b. Metcalfe 9
De Bruyne ct. [Uknown] b. Metcalfe 5
T. Barson lbw C. Milne 2
Meadows b. R. Rydon 1
Bell ct. [Uknown] b. Metcalfe 0
Grant not out 20
CSD c&B R. Rydon 0
Roland b. R. Rydon 0
Extras 7
61 (all out, 21 overs)
Buccaneers bowling
W. Metcalfe 8. 1. 5. 23
C. Milne 8. 0. 2. 14
R. Rydon 3. 0. 3. 10
S. Leefe 2. 0. 0. 7
Buccaneers won by 67 runs