Happy 21st birthday to the House Match. We struggled through to this important milestone but forsook champagne and Black Tie for Hogsback beer and crisp whites.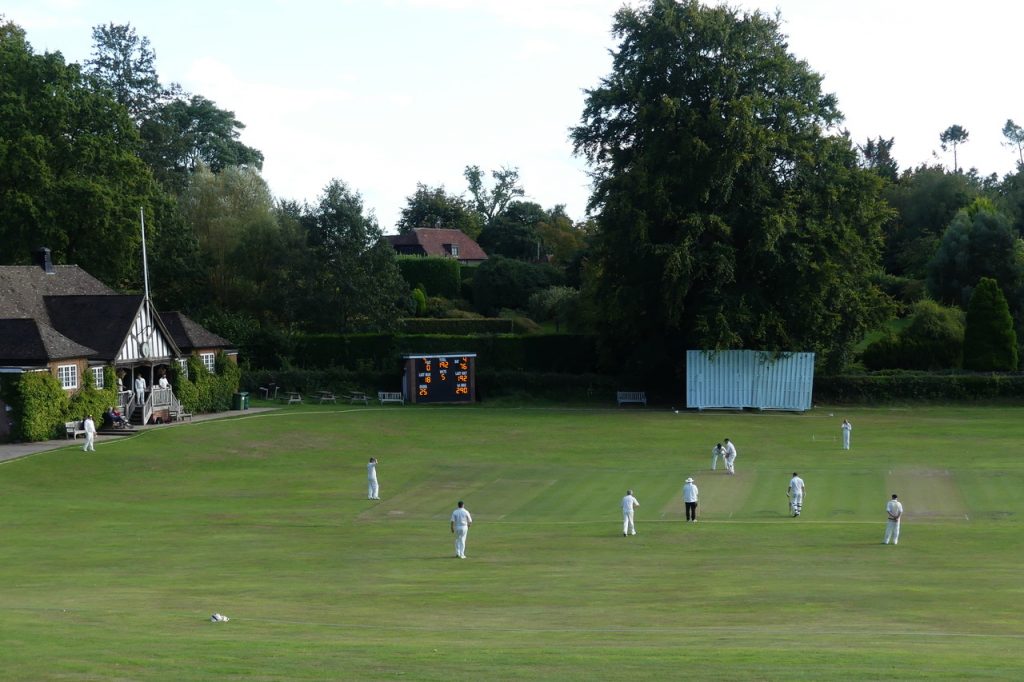 Two teams (of sorts) had been collected and Rich Hobbs' Hyderbad Sunrisers rose to the challenge against Rob Rydon's Rajasthan Royals. Rob won the toss on a bright sunny morning. There was a hint of green on the pitch but the prospect of a leisurely morning supping ale meant he decided to bat. He sent in his young fit son, Alex along with the not so young and not so fit Chris Leech. Things proceeded along smoothly, with not many quick singles, until Alex launched an uppish drive into the hands of Will Metcalfe at mid wicket off the impressive Steve Moules. Eswar Kalidasan entered the fray and along with Chris started to smack the ball to all parts. Russell Kyne kept the septuagenarian keeper, Andy Morgan, on his toes (and on his knees) as wides and leg byes also kept the score board rattling along. Chris got fifty and got out and so Simon Leefe joined Eswar to really start the fireworks. Will bowled a tidy spell and the skipper, Rich put the brakes on initially but it was a batsman's paradise. Jeremy Milne took on the biffing when Eswar left and Simon took a particular liking to Gus Berry's bowling, hitting him into the neighbouring garden on a number of occasions (four overs for 56 tell the story). I can't remember what the score at lunch was but it was a lot. It didn't seem to matter to many others either as we sat down in the top room of the Dog and Pheasant and tucked into a hearty lunch.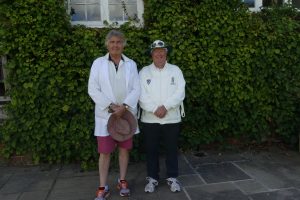 Play resumed, without any pudding, and Leefe(senior) and Milne(senior) carried on where they left off. It wouldn't be a proper Jeremy innings unless he ran some one out and this time it was himself. He was replaced by Ludo Milne who put in some lusty blows. Sadly Simon got caught with a few overs to go and so was unable to bat with his daughter, Georgie, who helped complete the Royals' innings with a total of 290 for 5 off their forty overs.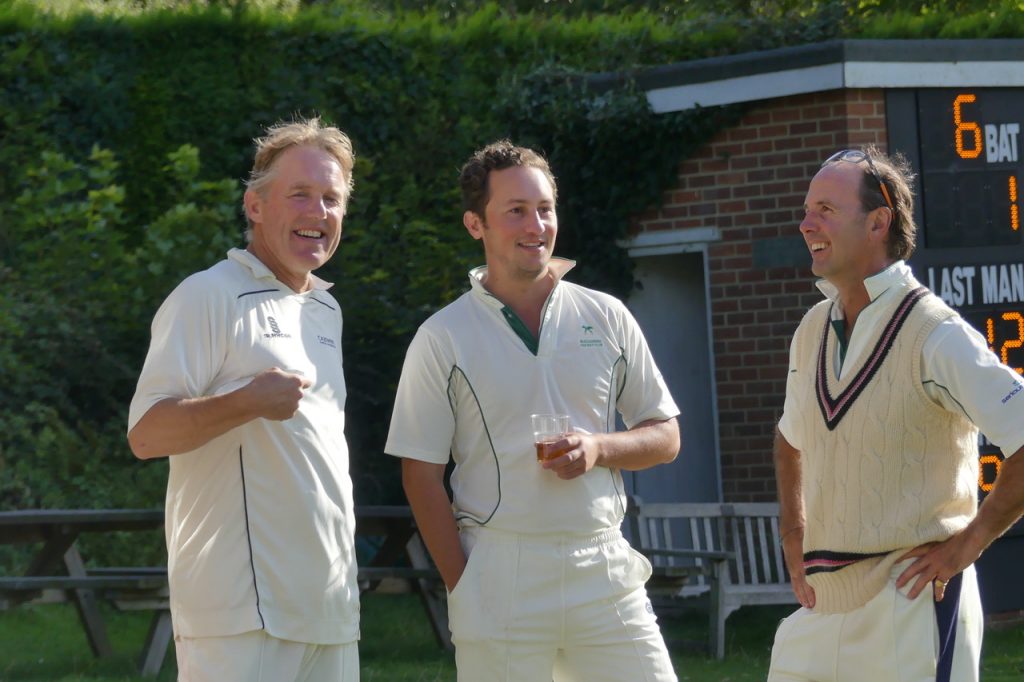 Those with calculators worked out the Sunrisers needed 7.25 an over. Gus Berry and Alastair Cross came out swinging. Gus tried to put one of Rob's deliveries into the woods up the hill (over 200 meters away) and lost his off stump in the process. Alastair followed soon after. James Crichton and Dan South joined the fray and kept the run rate up to speed. James deposited Rob into a distant hedge for a quality six and made another contribution to the large number of lost balls during the day. As the bowlers were rotated with a range of youth through experience (Georgie Leefe and John Bryant respectively) a chink of a breakthrough appeared as John bowled James. But, yet more quality marched to the crease in the form of Steven. Dan was continuing to smite fours and sixes and then a larger crack appeared in the foundations of the Sunriser's innings as Steven was bowled (expecting some turn) by Simon. Tea, after twenty overs was a statisticians delight, as the score stood at 145 for 5.


In trying to make up for lack of pudding at lunch, the Dog and Pheasant provided a copious assortment of cakes and biscuits for tea. Russel Kyne joined Dan out in the middle. You know the story – more fours and sixes until Russel was bowled behind his legs by the whirling dervish of a leg spinner, Warwick Okines. Surely the Royals were in charge now. But no, it was Will and Dan who tucked in, this time returning the compliment of gorging into Simon's bowling. More sixes (six off Simon's six overs), more lost balls. But then some inspirational captaincy. A quick burst of pace. Two overs from Ludo and the crucial wicket of Dan, caught behind by Alex. Another quick burst of (medium) pace and Rob clipped the top of off stump of the dangerous looking Sunriser's skipper. Yet more inspirational captaincy, as the pace was taken off and John Bryant played the timeless three card trick of four, six, wicket and bowled Will.
All out. Not quite. Do to the inequality in numbers a strange rule of 'last man standing' was employed. This meant that it was left to Andy Morgan to single handedly bring the Sunrisers home. And boy did he nearly do it. Reminiscent of Ben Stokes at Headingly, he waited patiently for the short ball and deposited three sixes into the car park. With twelve runs to win and three overs left, momentum was with the Sunrisers. But it was not to be, because Warwick bowled him and 278 for 9 was frozen on the electronic scoreboard.
More ale was supped. The under five year old spectators enjoyed the water park as the sprinklers were turned on and everyone agreed that the occasion had been one of the best House Matches in living memory.
Innings of Rob Rydon's XI
A.RYDON CT METCALFE BWLD MOULES 14
C.LEECH BWLD METCALFE 50
E.KALIDASAN CT BWLD METCALFE 38
S.LEEFE CT BWLD MOULES 75
J.MILNE RUN OUT 42
L.MILNE NOT OUT 24
G.LEEFE NOT OUT 0
R.RYDON DNB
W.OKINES DNB
J.BRYANT DNB 290 FOR 5
S.MOULES 8-0-2-33
R.KYNE 6-0-0-57
W.METCALFE 8-0-2-41
R.HOBBS 8-1-0-56
A.BERRY 4-0-0-54
J.CRICHTON 6-0-0-34
Innings of R Hobbs' XI
A.BERRY BWLD R.RYDON 7
A.CROSS BWLD R.RYDON 13
J.CRICHTON BWLD BRYANT 44
D.SOUTH CT A.RYDON BWLD L.MILNE 91
S.MOULES BWLD S.LEEFE 12
R.KYNE BWLD OKINES 18
W.METCALFE BWLD BRYANT 37
R. HOBBS BWLD R.RYDON 0
A.MORGAN BWLD OKINES 30 278 FOR 9
L.MILNE 6-0-1-45
R.RYDON 6-1-3-25
G.LEEFE 5-0-0-48
J.BRYANT 6-0-2-59
W.OKINES 8-1-2-40
S.LEEFE 6-0-1-47