WC & T CC 234 – 8 (40 overs), Buccs 235 – 4 (35.1 overs). Buccaneers won by six wickets
Buccaneers cricket made a very welcome return at West Chiltington & Thakeham on Sunday 26 July. This was our second visit to the picturesque ground at WC&T and we were again very well looked after by our hosts, whose organisation to ensure covid-compliance while still allowing for an enjoyable day out was particularly commendable.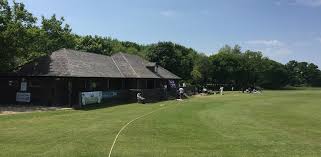 The toss was negotiated, the format set at 40 overs per side and, in a repeat of the 2019 fixture, WC&T got off to a flyer with the bat. Buccaneers were lacking somewhat in the seam bowling department, and it was therefore no surprise to see Rob Rydon come out of 'retirement' to take the first wicket with a classic away swinger. WC&T's youthful batting line up continued their assault on the Buccs spinners, despite Buccs managing to take wickets at relatively regular intervals. A fast outfield – and an exhibition in slip juggling and deflection from Milne Snr – saw runs flow at a quick rate, and Buccs were once again looking at a chase requiring more than five runs per over. James Marsh was the pick of our bowlers, finishing with 3-40 and extracting significant turn from the wicket (much to the concern of the Buccs batsmen).
Energised by their covid-secure sandwiches in the tea break, Angus Berry and Eswar Kalidasan strode to the wicket to begin our pursuit of 235. WC&T's opening bowlers seemed intent on testing out the middle of the (admittedly bouncy) track and, after watching a few short balls sail by, the Buccs openers decided the time had come to counter. Gus and Eswar unleashed an impressive range of cuts, pulls and punches and were more than happy to throw their hands through blazing drives on the odd occasion the ball was pitched up. Both passed 50 in a thrilling opening stand of 147 that did not leave much work to do for those that followed. The introduction of spin saw wickets begin to fall – Eswar was bowled for 57 and Angus was caught for 73 (yet again declining the opportunity to score his maiden Buccs hundred and buy a jug of beer for his mates). Charlie Leefe (18) and Rob Rydon (9) both entertained with sixes in their short stays at the crease before Simon Leefe (27*) and Ludo Milne (15*) saw us home without alarm and with more than four overs to spare. A memorable chase and Buccs victorious by six wickets in what must be one of our highest scoring 'season openers' ever.
With the series poised at 1-1, we very much look forward to returning to West Chiltington in 2021.
Innings of WC&TCC
E. White ct. Fletcher+ b. Rydon 38
J. Taylor b. A. Marsh 35
H. Gillespie ct. [Unknown] b. J. Marsh 33
M. Goring b. Rydon 4
B. Lucking ct. [Unknown] b. J. Marsh 36
T. Taylor LBW b. S. Leefe 18
C. Davies ct. [Unknown] b. S. Leefe 32
R. Taylor st. Fletcher+ b. J. Marsh 1
O. Van Noort Not out 10
C. Tear Not out 20
C. Wyatt Did not bat
Extras 7
234 – 8 (40 overs)

Buccaneers bowling
L. Milne 7. 1. 39. –.
G. Smith 2. –. 25. –.
R. Rydon 8. 1. 27. 2.
A. Marsh 8. -. 48. 1.
J. Marsh 8. -. 40. 3.
C. Leefe 2. -. 21. -.
S. Leefe 5. -. 30. 2.
Innings of Buccaneers
A. Berry ct. b. Lucking 73
E. Kalidasan b. Davies 57
C. Leefe ct. b. Lucking 18
S. Leefe Not out 27
R. Rydon LBW b. Davies 9
L. Milne Not out 15
J. Marsh Did not bat
G. Smith Did not bat
A. Marsh Did not bat
J. Milne Did not bat
T. Fletcher Did not bat
Extras 36
235 – 4 (35.1 overs)
Buccaneers won by six wickets