Under the watchful gaze of leading sports QC Mark Milliken-Smith, a selection of Buccaneer players past and present met on the evening of Thursday 28 October at the East India Club Pall Mall, to reflect on the past season in convivial company.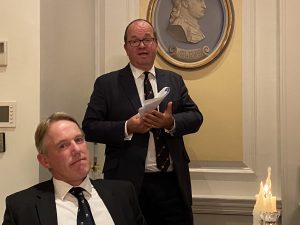 With the President Simon Woolfries sidelined by you know what, Hon Sec (and future President) Rob Rydon brought the assembly to order and talked attendees through the season. The results for the season and the averages for the year can be found here.
Winners on the night included leading aggregrate wicket taker Angus Berry, bowler with the lowest average Tom Rydon (FBP*) and leading batter Steve 'the Axeman' Moules. The recipient of the Geoffrey Moore Award for the season was Ludo Milne for his outstanding efforts of 144 runs at 72.0 and 7 wickets at 11.4. Ludo is pictured receiving an original Geoffrey Moore Mk1 club tie from Rob Rydon (as last year's winner was away and was unable to return the magnificent trophy in time).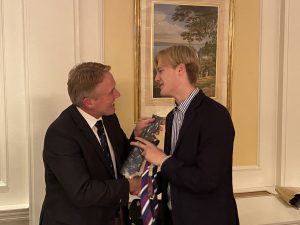 Mark Milliken-Smith responded to the traditional toast to the club's guests. In a wide ranging discussion based on on his many years defending rugby players and cricketers who stray from the path in their professional lives and acting for sports authorities, he entertained the Buccaneers and made a strong pitch for who club members should turn to in case of any nightclub or recreational drug-related incidents in the future. Chatham House rules prevent any more comment on what was discussed!
Thanks as ever to David Close for organising another excellent evening.
*Future Buccaneers' President