Another visit to the pretty postage stamp of Frensham. Unlike last year when the match was played in pouring rain, the weather was fair. Frensham seem to prefer limited overs cricket but we agreed to play a declaration game. In keeping with the customary friendliness of this fixture, after a discussion between the captains about the respective strength of the teams, there was an agreement to forgo the toss. The Buccs would bat first.
Ludo Milne and James Marsh opened and put on 32 runs before Ludo was out for 12. James, having scored 75 not out last year, continued to delight with excellent shots. Brother Archie contributed 8, which brought Jeremy Milne to the wicket.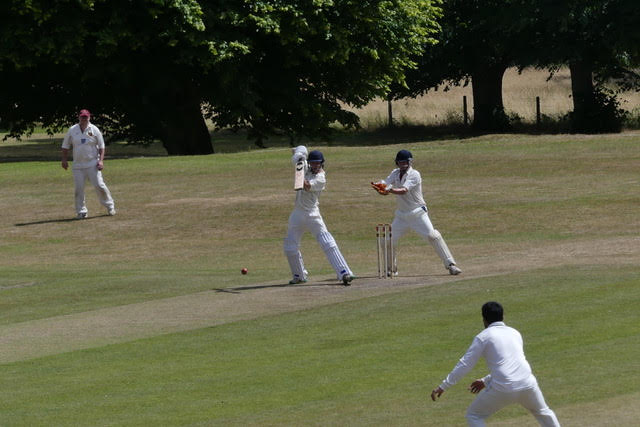 He supported James seemingly with effortless ease until James was out for a splendid 80 with the score on 181. In came Eric Wedge-Bull (16), followed by Caspar Milne, who clearly decided not to exert his father by running too much. Out of his score of 24 not out, 22 came in boundaries with only 2 singles. The Buccs then declared on 204 for 4 after 33 overs.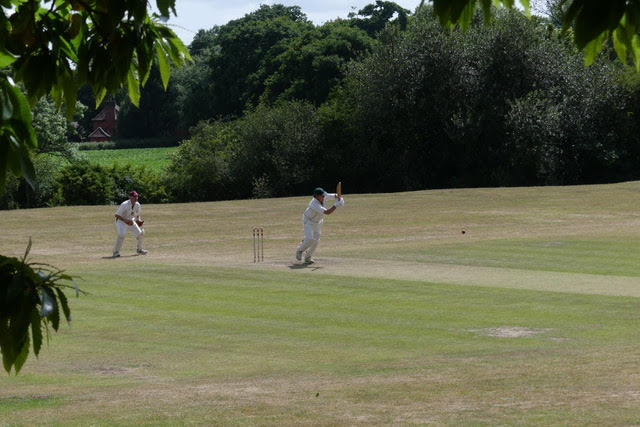 Frensham must still be riddled with Covid, because fear of it prevented them from providing what in the past has been a splendid tea. So, having had a break to graze on whatever we had brought, we resumed, allowing Frensham 45 minutes plus 20 overs to bat.
Michael Starkey and Charlie Pexton took the new ball and restrained the opening pair, Charlie taking the first wicket in his third over and going on to claim two more a couple of overs later. Caspar and Eric followed. Frensham's 3, 4 and 5 were out for low scores and it was clear that they were unlikely to overtake our total, their number 6, J. Powell, being top scorer. Once Archie had him caught for 34 it became a question of whether or not we could prise out the lower order.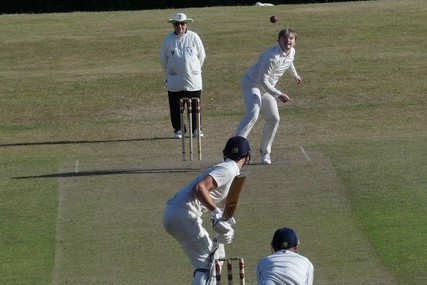 Archie, Richard Hobbs and James all had a go. Richard was unlucky. The aged John Bryant at slip shelled two catches in quick succession off his bowling and the game petered out in a draw with Frensham on 132 for 8 after 32 overs.
Buccs 204-4 dec. Frensham 132-8. Draw
Innings of Buccaneers
LMilne                                                     12
J. Marsh                                                       80
A. Marsh                                                      8
J. Milne                        not out                 32
E. Wedge-Bull                                            16
C. Milne                       not out                 24
Extras 38
Total                                                              204-4 dec
Frensham Bowling (Overs, maidens, wickets, runs)
J. Powell                              3-0-1-19
J. Frost                                  6-2-0-24
S. Platt                                  4-0-0-12
A. Warren                           6-0-0-32
D. Coleman                         6-0-1-34
North                                    4-0-2-31
Mohammed                       4-0-0-30
Innings of Frensham
James Frost                                                        7
A. Warren                                                           18
Jordan Frost                                                       10
A. Warren                                                           0
M. Hashir                                                             4
J. Powell                                                              34
C. North                                                               9
S. Platt                                  not out                 6
D. Coleman                                                         1
J. Wallis                                not out                 13
Extras                                                                    22
Total                                                                      132-8
Buccs Bowling
M. Starkey                  5-0-0-22
C. Pexton                    6-2-3-14
C. Milne                       3-0-1-15
C. Wedge-Bull           4-0-0-34
A. Marsh                      6-2-2-18
R. Hobbs                      4-1-1-8
J. Marsh                       2-0-0-8