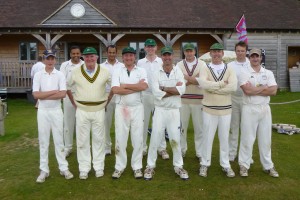 Having been put into the field, the Buccs quickly made inroads with a hard-charging Rob Rydon clean bowling the opener Rhodes for a duck. Rydon and Paul Hobson – bowling his trademark and largely unplayable dibbly dobblers – made run scoring difficult and between them they took four wickets in their opening spell, including a classic medium pacer's stumping for Hobbo. They gave way to the timeless Hack who immediately found both a good length and a wicket with a ball that bamboozled the batsman and snuck under his bat to rattle the timbers. Jim Mann bowled a tidy spell before giving way to Jeremy Milne who took a wicket with his first ball, the lack of turn completely deceiving the batsman. At this point lunch was called with the Armadillos on 79 for 6 . So far so good.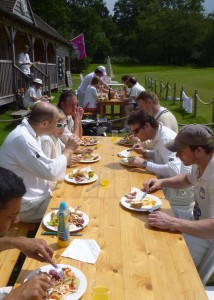 Resuming his over after lunch, Milne took another wicket and was starting to look unplayable. At 80 for 7, a three figure total looked highly unlikely until Alex Olsen entered the fray and swung the bat with great effect and a little luck to rack up a very useful 53.
With the last three wickets proving difficult to winkle out, James Stringer produced a sharp run out . A classic 'fumble' lured the batsmen into a second run, at which point Stringer fired his return to the keeper – the excellent Ollie Metcalfe, who administered the coup de grace. Although Charlie Leefe found a lot of turn with his leg breaks and beat the bat on a number of occasions, it took the return of Rydon and Hobson to clean up the tail. Rydon put a hearty lunch behind him and continued to beat most of the Dills for pace, finishing with 4 for 30. Indeed, he would have had his Michelle (five-fer) were it not for a woeful drop from the skipper. Apologies to the Twineham Express. After 53 overs in the field, the Dills ended with 169 all out. The skipper's immediate assessment was that this was a very gettable total, albeit on a difficult wicket to score quickly on. He was also reminded that the Buccs had unsuccessfully tried to surpass a similar total at the same ground last year.
In reply the Buccs followed a similar pattern to the previous year with batsmen getting in, looking comfortable and then getting out. With five down and still over 100 to get, Milne and Ollie Metcalfe started to calm the fraying nerves with calm assurance and clean hitting. Metcalfe, in particular, seemed to be mounting a campaign to displace Jos Buttler. However, a well hit cover drive by Milne proved Metcalfe's undoing. Milne admired the stroke and clearly thought it deserved a run, but failed to notice it had gone straight to a fielder. Metcalfe was left stranded halfway down the pitch and Peter Moore's car was seen to leave the ground.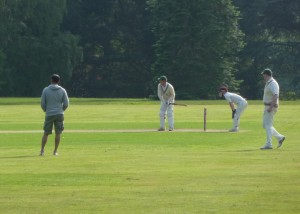 With Milne following him back to the hutch shortly afterwards, it was left to the arch-finishers Rydon (42) and Hobson (30) to take control of the innings. Together they put on over 70 runs – combining good running with some dashing strokeplay. They also displayed a fine grasp of the dramatic. With one run required off the last two balls, Hobson insouciantly left the penultimate ball before coolly smashing the last for four. A cracking finish to a very close contest.
Innings of Armadillos
D Goddard st O Metcalfe b P Hobson 6
A Rhodes b R Rydon 0
P Lorgan ct O Metcalfe b R Rydon 8
T Bourne lbw J Milne 35
B Langham ct O Metcalfe b R Rydon 4
A Pickering b R Gwynn 18
H Scott-Gall b R Rydon 20
F Greemish b J Milne 0
A Olsen ct Subhir Chakravarti b P Hobson 53
R Taylor run out J Stringer 7
Alex not out 4
Extras 14
Total 169 all out
Bowling
R Rydon 12-1-30-4
P Hobson 10-4-19-2
R Gwynn 8-1-20-1
J Mann 6-0-26-0
J Milne 7-1-14-2
C Leefe 7-0-34-0
S Leefe 4-0-18-0
Innings of Buccaneers
J Stringer ct B Langham b R Taylor 10
Sujay Chakravarti ct H Scott-Gall b A Pickering 14
C Leefe b B Langham 8
Subir Chakravarti lbw A Pickering 10
J Mann lbw B Langham 0
J Milne ct D Goddard b F Greemish 17
O Metcalfe run out 18
R Rydon not out 42
P Hobson not out 30
Extras 24
Total 173 for 7
Bowling
R Taylor 12-1-56-1
A Pickering 12-2-36-2
B Langham 17-3-49-2
F Greemish 2-0-9-1
Alex 2-0-17-0