Kim Ross was named the winner of the Geoffrey Moore award for 2011 for his superb batting performances during the season at the Buccaneers' Annual Dinner on 23 February 2012 in London.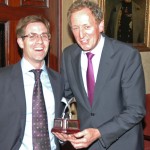 Kim averaged over 150 with the bat and pipped others including Simon Woolfries who took 20 wickets at 11 and Bob Palmer's match-winning 6 for 28 against Brook. Kim received his prize from former New Zealand Test captain Jeremy Coney.
Forty Buccaneers past and present as well as their guests enjoyed a traditional dinner at the East India Club in St James's.
Afterwards they heard a review of the season by the President Simon Woolfries as well as entertaining reminiscences on his tours with his country to Pakistan by Jeremy Coney.