Over 40 Buccaneers enjoyed a convivial evening at the 84th Annual Dinner, held at the East India Club in St James's on Wednesday 26th February, which followed the now traditional pre-Dinner AGM.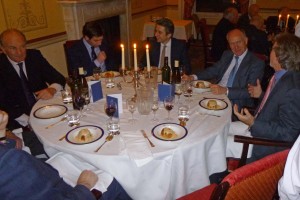 At the AGM, the club welcomed new Committee members Subir Chakravarti, Paul Hobson and Simon Leefe and thanked Adam Wyartt for his previous service.
Buccaneers and guested enjoyed the traditional Dinner fare, topped as ever by syrup sponge pudding and 'creme anglaise (old boy)'.
After dinner, President Simon Woolfries was delighted to announce that Sujay Chakravarti was the 2013 winner of the Geoffrey Moore Award for his commitment throughout the season with the bat, ball and gauntlets. His mileage on the Jag also suffered.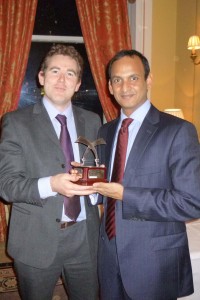 Andrew Miller, fellow Buccaneer and Editor of The Cricketer responded to the toast of cricket. 'Funky' explained how he had broken into the hallowed world of cricket hackdom via Pakistan and bacon sandwiches, as well as choosing in his speech to lead a spirited defence of KP. His stand on this subject ensured he had to survive a barrage of bouncers from a number of fellow diners who all chose to come off their long runs. He left in slightly better shape than Piers Morgan managed in Aus. The Committee would like to thank Andrew for agreeing to speak.