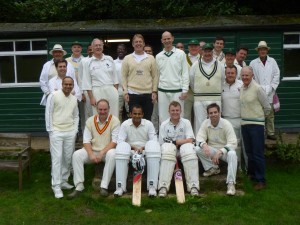 All 22 Buccaneers assembled for an 11.00am start, but there was no grounds man to open the pavilion and provide the stumps. After a hasty phone call and minor heart palpitations from James, order was restored and the first ball was delivered at 11.30am at Betchworth.
Richard Manyon tore in from the wood end and accounted for Sujay very quickly and then Matt Luxford (who may not have remembered much of his innings as he was still enjoying the previous night's party). The quality of Will and Mel started to shine through, but an all run four was Mel's undoing as he spooned one to mid off and was shocked to see Andy Close hang on to it. Patrick Hole enacted a brief (very brief) cameo role and before the Royals knew it they were four down (all due to Mr Manyon). The senior pro, in the form of Andy Morgan, steadied the ship and a strong partnership changed the face of the game. Will controlled proceedings (an impressive 80 not out) and when Andy departed, Muktesh took up the challenge which included an entertaining two runs to first slip. The forty overs were up with 172 on the board, which Rob, the skipper, thought was just above par.
And so to the Stringer Superkings innings. Leading from the front was James partnered by Pratik (who made a mighty fine impression of Virender Sehwag). It was just like old times with Hole dropping a catch in the slips off Rob. No such let off for James when he swung one of Alok's deliveries to Mel. Kim started rather scratchily and was dropped twice by the two best fielders out there, but then started to show his class. Pratik was caught over the shoulder off Will and Subir didn't stay much longer than his brother. With Kim and Jim at the crease, the runs steadily started to flow and things looked rather bleak for the Royals until the old campaigner was brought back. Rob accounted for Kim and then Jim and then gallantly allowed Will to come on and clean up the tail. There may have been a triple wicket maiden in there (Rhino, Closey and Hack). Richard M hit a few lusty blows but died by the sword. The total was being chased down with seven balls left, but the coup de grace summed up the day nicely with Hobbo being dropped on the boundary, and Adam being run out as the throw came in. Plenty of beer flowed in the Red Lion as the season was put to a close.
Man of the match: Will Noble (just). 'Thanks for coming award': everyone else.
Umpires: D Goulstone and J Marsh
R Rydon's XI (Rydon's Royals)
Matt Luxford ct Ross b Manyon 18
Sujay Chakravarti b Manyon 0
Mel Ragnuath ct A Close b Manyon 22
Will Noble not out 80
Patrick Hole b Manyon 4
Andy Morgan ct Hobson b Brandes 24
Muktesh Ghatak b Hobson 10
Rob Rydon not out 1
Extras 6
Total 172 for 6 (40 overs)
Bowling
Richard Manyon 9-0-25-4
Adam Wyartt 5-0-23-0
Paul Hobson 15-3-48-1
Pratik Patel 7-0-45-0
Steve Brandes 4-0-26-0
Innings of James Stringer's XI (Stringer's Superkings)
Pratick Patel ct Ragnauth b Noble 31
James Stringer ct Ragnauth b Rege 8
Kim Ross ct Morgan b Morgan b Rydon 66
Subir Chakravarti lbw Noble 3
Jim Harcourt ct Noble b Rydon 15
Paul Hobson not out 12
Steve Brandes ct Morgan b Noble 7
Andy Close stumped Luxford b Noble 0
Richard Gwynn ct Luxford b Noble 0
Richard Manyon b Noble 6
Adam Wyartt run out 1
Extras 7
Total 156 all out (39 overs)
Bowling
Rob Rydon 10-1-39-2
Alok Rege 6-0-20-1
Will Noble 10-3-27-6
John Bryant 4-0-24-0
Simon Woolfries 9-0-45-0