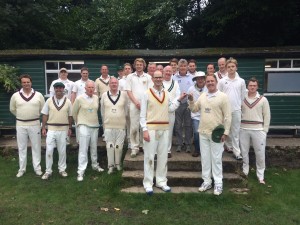 The annoying phenomenon of sunny weekdays and overcast weekends curtailed the start of the 2016 House Match at Betchworth, but no one seemed to mind too much as they tucked into the Harvey's and fine selection of meats, pies and salads in the Red Lion. A 30 over match was agreed upon and the Rydon Royals decided to bat (so that more of their players could digest lunch).
A feisty pitch with a slow outfield was always going to be a challenge, but with the score on 6 for 2 after 2 overs, things looked bleak. But lady luck decided to shine on the Royals and Simon Leefe in particular.  While Will Rydon played circumspectly, Simon chanced his arm and hit some impressive boundaries. He took the aerial route occasionally and on every occasion the Stringer Superkings obliged by dropping him.  Unfortunately for Will, his first mistimed shot was caught, bringing Jim Mann striding to the wicket. Jim had only played once this season (for a second rate City stockbroker) so the captain was delighted to see him caress and bludgeon the ball to all parts of the ground. Meanwhile, Simon was continuing to be shelled by fielders in all parts of the ground. As the innings drew to close, fours and sixes reigned, as the full nine bowlers were employed, enabling the Royals to rest at 157 for 3.
Not many could eat the fine selection of cakes (still being full from lunch), but the ten Royals took the field in eager anticipation of their youth pace attack – Harry Mann and Tom Rydon. Anticipation was justified as the Superkings slipped to 6 for 2 after 4 overs. Fiery spells on the unpredictable wicket (two consecutive balls from Tom on the same length varied in bounce by six feet) meant plenty of helmet application. James Smith was struck on said helmet while applying himself manfully. Then some light relief as Simon Woolfries and Rob Rydon plied their trade to little effect. Archie Marsh whirled through some leg spin, suffering dropped catches and plumb LBW decisions being turned down by his father. And so to the reluctant Leefe, who didn't want to bowl but ended up with 4 for 4 off his three overs. He ripped the heart out of the Superkings and enabled the captain to bring on the full repertoire of nine different bowlers. James Stinger remained not out as the wickets tumbled around him and his side limped to 115 for 9. Later in the evening, as the ale started to flow, James tearfully handed over the Mynott Thimble to Rob and politely asked lucky Leefe what Lottery numbers he was going to pick that night.
Innings of Rydon Royals
S.LEEFE      NOT OUT 91
A. MARSH  BOWLED MOULES 0
J. MILNE CT BERRY BWLD W.METCALFE 2
W.RYDON CT O.METCALFE BWLD OKINES 9
J.MANN NOT OUT 47
R.RYDON DNB
H.MANN DNB
A. MORGAN DNB
S.WOOLFRIES DNB
T.RYDON DNB
Total 157-3
Bowling
S.MOULES 5.2.1.10
W.METCALFE 5.0.1.21
R.HOBBS. 4.0.0.14
W.OKINES 4.0.1.23
R.GWYNN 2.0.013
A.BERRY 4.0.0.17
J.BRYANT 2.0.0.17
J.SMITH 2.0.0.21
S.BRANDES 2.0.017
Innings of Stringer Superkings
J.SMITH  LBW  S.LEEFE 32
O.METCALFE CT MORGAN BWLD H.MANN 1
A.BERRY  CT MORGAN BWLD T.RYDON 1
S.MOULES CT S.LEEFE BWLD H.MANN 12
W.METCALFE  BOWLED S.LEEFE 2
R.HOBBS  CT J.MANN BWLD S.LEEFE 32
J.STRINGER NOT OUT 22
S.BRANDES  STMPD A.MORGAN BWLD S.LEEFE 2
R.GWYNN  CT H.MANN BWLD R.RYDON 5
W.OKINES  BOWLED A.MARSH 1
J.BRYANT  NOT OUT 0
Total 115-9
Bowling of Rydon Royals
H.MANN 6.1.2.14
T.RYDON 5.0.1.16
S.WOOLFRIES 4.0.0.25
R.RYDON 5.0.1.15
A.MARSH 5.0.1.29
S.LEEFE 3.0.4.4
W.RYDON 1.0.0.1
J.MILNE (completed by J.MANN) 1.1.0.0