The weather forecast was not a happy one: light showers to be followed by heavier rain in the late afternoon. Both sides were keen to bat first, but Bryant lost the toss and Frensham put the Buccaneers in the field under a predicted light shower that soon became persistent light rain. Hamish Robertson and Steve Moules opened the bowling very tidily; the batsmen not playing many scoring shots but, as usual on this ground, the runs started coming in fours. Steve took his first wicket in the sixth over and then another in his next. Still the rain came down in a light drizzle and the umpire left it to the players to decide whether or not we should continue. All credit to Frensham, their batsmen were content to play on. Had we come off, there would have been little chance of resuming. The weather was not going to improve.
James Marsh took over from Hamish and took a wicket in his second over, that of Martin Breddy, a former Buccaneer. Angus Berry then replaced Steve and bowled extremely well, taking four wickets, including a double wicket maiden. It was difficult to prise the ball away from him but after about 33 overs with around 150 on the board Frensham's captain let us know that with the weather forecast so dire, he would bat for only another six overs. Angus gamely sacrificed the chance of taking 5 so as to let someone else have a go. Frensham then put on 40 odd runs, Archie Marsh taking a wicket in the two overs he was given before a very sporting declaration at 192 for 8 with theoretically buckets of time left but probably buckets of rain to come.
Since there was to be no official tea break (it was bring your own), the Buccaneers opened their innings immediately with the canny choice of Angus Berry and James Marsh as openers.  The rain got heavier and no doubt did the hearts of the fielders as Angus and James started to turn on their own tap.  But still Frensham showed willing and very generously stayed out on the field, getting wetter and wetter, while being punished for their endurance.  To add to their suffering, they gave the Buccaneers a third player, a man called "Extras", who managed to put on 45 in total (note that our Tom Fletcher had not conceded a single bye.)  With Angus scoring 73 and James 75, the Buccs paddled home without loss in only 18.2 overs.  A magnificent achievement.  When was the last time we had an opening partnership of more than 190 (Hurlingham 2011? see this link)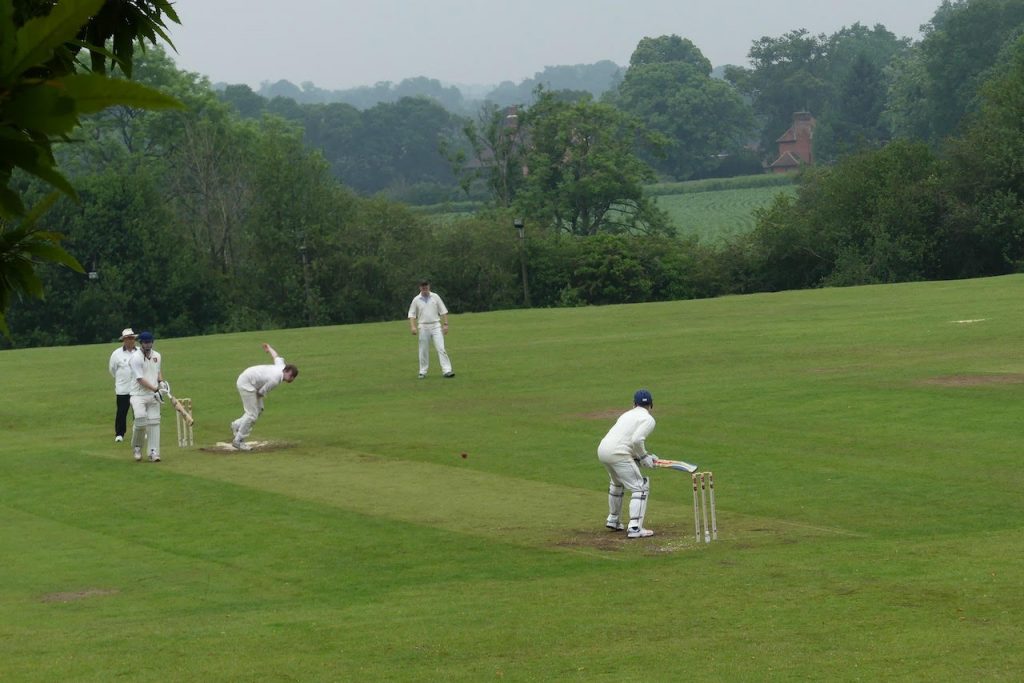 An extraordinary game of cricket, probably the only game in Surrey that finished that day. Many thanks to Frensham for their fortitude and willingness to give us a match, come what may. Buccs won by 10 wickets.
Innings of Frensham
Breddy b. J. Marsh 26
Bixby b. Moules 5
Champneys lbw Moules 6
McCabe c. Berry 36
Jones b. Berry 29
White not out 59
Smith O. c. Fletcher b. Berry 0
Smith M. b. Berry 4
Smith D. b. A. Marsh 8
Extras 12
Total 192 for 8 declared
H. Robertson 7-2-0-27
S. Moules 8-2-2-43
J. March 6-2-1-33
A. Berry 9-3-4-25
G. Stapleton 3-0-0-17
O. Robertson 3-0-0-26
A. Marsh 2-0-1-16
Innings of Buccaneers
Berry not out 73
J. Marsh not out 75
Extras 45
Total 193
C. Jones 4-0-0-31
M. Smith 3-0-0-15
P.McCabe 4-0-0-30
D. Bigsby 3-0-0-28
C. Doian 2.2-0-0-28
E. White 2-0-0-29