The day was cut short by a strike in the Armadillos canteen meaning that lunch was taken off the menu and play began as a 40-a-side bash at 1pm.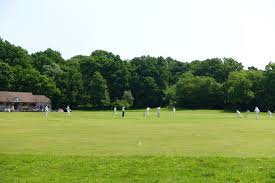 The Buccs skipper , having learnt nothing from previous years , won the toss and chose to bat despite an outfield of thick wet grass . The Armadillos opening attack bowled tidily and gave away nothing. Angus Berry and Michael Harms batted warily and built a solid base. With the grass proving almost impenetrable both decided to go the aerial route and hit some lusty blows. Richard Hobbs and Ollie Metcalfe then picked up the pace with Hobbs smashing a couple of big sixes. Metcalfe did the same and was quick to step down the wicket when he had the chance. One straight on drive for six was a particular highlight. Both deserved fifties, but fell as they pushed the run rate up. Charlie Leefe strode to the crease; well, stumbled to it as he walked straight into a bench spilling a Milne pint, before reaching the field of play. This clearly discombobulated him as he smeared a wide onto his stumps for a first baller. Rob Rydon, returning to the scene of his Glenn McGrath moment last year, rattled off a quickfire 28 before falling to Ollie Mann who was the pick of the bowlers with 4 for 30. A total of 163 was very respectable given the quality of the Armadillos attack and the sluggishness of the outfield but it still felt about 40 runs short of par.
Ludo Milne and Rob Rydon opened the bowling attack and kept the scoring below the required run rate of four an over for some time, before Smallwood started to hit some strong drives.
The other opener, Cope, failed to find the same fluency and kept the bowlers interested. Rydon bowled his full eight-over spell and found the edge of Smallwood's bat, a very sharp chance going down. A change of bowlers saw Richard Hobbs and Angus Berry working in tandem and the early signs were encouraging. Both found turn and on occasion very sharp turn. Berry completely befuddled Smallwood with one that lifted and turned past the bat off a very good length. Hobbs eventually got some reward with a sharp catch at midwicket taken by Charlie Leefe.
Unfortunately, that brought H Lloyd to the crease, a left hander with a natty top knot and a strong line in reverse hitting. He should impress Kaushal Silva, the Sri Lankan test player, who has just signed for his home club Mayfield. With the outfield now dry, every well struck shot seemed to get over the boundary rather than settling in the grass a yard from the rope as it had earlier. Smallwood and Lloyd found scoring increasingly easy and they reached the Buccs score in some comfort.
So a good match in the Sheffield Park tradition but the Buccs eventually outclassed by a very strong young Armadillos side by 9 wickets.
Innings of Buccaneers
A Berry ct H Lloyd b H Cope 19
Harms ct J Smallwood b T Davy 19
J Milne b O Mann 3
T Fletcher ct H Mann b O Mann 7
R Hobbs b A Pickering 27
O Metcalfe ct O Mann b J Smallwood 44
C Leefe b A Pickering 0
R Rydon ct AN Other b O Mann 28
D Close b H Mann 6
S Leefe b O Mann 1
L Milne Not Out 1
Extras 8
Total 163

Bowling
H Mann 7-3-13-1
T Davy 8-0-25-1
H Cope 8-1-127-1
O Mann 7-1-30-4
A Pickering 4-39-2
J Smallwood 4-0-32-1
Innings of Armadillos
J Smallwood Not Out 79
H Cope ct C Leefe b R Hobbs 13
H Lloyd Not Out 71
Extras 3
Total 166
Bowling
L Milne 5-0-18-0
R Rydon 8-0-40-0
R Hobbs 6-0-49-0
A Berry 4-0-34-0
C Leefe 1-0-17-0
S Leefe 1-0-7-0