As Britain's heatwave entered a fourth week, 11 Buccaneers braved the Surrey sun to take on Brook CC; a fixture that has fallen foul of the weather for the last three seasons. No such danger this season as the Buccs were greeted by a parched outfield that screamed runs.
Following a delightful lunch of potted crab, washed down with local pale ales at the Dog and Pheasant adjacent to the ground, the pressure was on stand-in skipper Berry to win the toss – not least because the Buccs only numbered seven with 10 minutes before the scheduled start of play.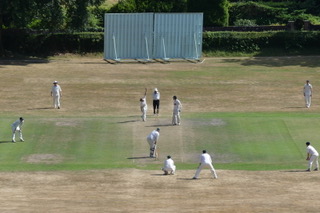 Having duly won the toss, Berry made no hesitation in batting and the Buccs went out looking to post a decent score. Following a flowing opening partnership between Ollie Robertson and Jeremy Milne, a run out looked the only thing that would stop us. Cue a "yes, no, maybe", angry stare, bat smacking pad, and a sigh of "oh dear" from the boundary and Jeremy was gone to be replaced by the skipper.   
Berry and Martin, and then Berry and Fletcher began the rebuilding process and started to stroke the ball with ease across the lightning quick outfield. Following a short interval for much needed refreshment, the skipper took the first over after drinks for four boundaries. Things were looking rosy for the Buccs at this time, until a dubious LBW decision from our ran-out opener sent Fletcher packing. The young lawyer was convinced that the ball hadn't even touched his foot and is currently looking at which legal avenues are open to him.
The next period of play went to Brook, who were excellently marshalled by their young skipper who also bowled the spell of the day.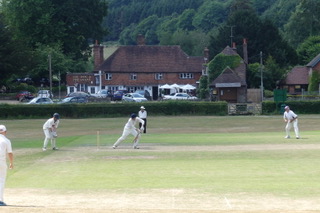 His off breaks, a mixture of ripping turners and difficult to hit darts slowed the Buccs' progress. Berry, frustrated by the well set fields, looked to go over the top and was caught for 75. This brought together Leefe Senior and, following a few more wickets, Alex Rydon. The two plundered the bowling around the park to set up a declaration at the 38 over mark – giving Brook the same number of overs to score a tricky 250.
After a delightful lunch with some stunning homemade brownies, the Buccs took the field with confidence. How misplaced that confidence was…
What proceeded was a team with clearly too much suncream applied to the hands as numerous catches were dropped, misfields witnessed, and there were also overthrows galore. The skipper trying not to catch the eye of our President watching from the boundary.
Credit must indeed go to Brook's 19 year old opener who played a great array of shots and timed their chase perfectly. A classy hundred, coupled with some back breaking heaves from their number 6 ensured that Brook brought it home with an over to spare. What could have been if the Buccs has held on to a catch or two, or three, or 11.
The day was rounded off with a few more pints in the Dog and Pheasant where tales of Buccaneers passed were told and one final catch was put down; Charlie Leefe managing to put down an entire pint over Jeremey. Perhaps our unlucky lawyer was behind it…
Our thanks go to our gracious hosts who put on a cracking game, played very much in the right spirit and one that we will look forward to next year. Time to practice a few catches before our next game in two weeks time.
It's coming home.
Innings of the Buccaneers
J Milne run out 16
O Robertson bowled 19
A Berry caught 75
R Martin lbw 9
T Fletcher lbw 23
N Robertson caught 0
C Leefe caught 5
S Leefe Not Out 44
A Rydon Not Out 37
A Morgan DNB
T Rydon DNB
Total 249 – 7
Buccaneers Bowling
Bowler Overs Maidens Runs Wickets
T Rydon 6-1-21-0
A Berry 5-0-45-1
S Leefe 13-1-85-2
A Rydon 4-0-24-0
C Leefe 9-0-69-1
Total 252 – 4