After a 9.00am discussion with the OHJ's manager, it was decided to chance it , even though the forecast was dodgy. Driving through Hurstpierpoint in torrential rain tested the optimism of even the captain. It was obvious we were not going to start on time, but some port at midday and an early lunch soothed the grumbles (mainly from the umpires).
Play started at 2.15pm with the captain opening the batting with his middle son. All proceeded smoothly and just shy of the fifty run partnership, Rob decided to hit a short ball to midwicket. James Marsh entered the fray, hit a few impressive shots and then lofted one to mid on. Meanwhile, Alex Rydon upped the tempo and accelerated to a fifty but was then caught on the boundary. Pace was taken off and after Jim Mann was out we found it increasingly difficult to penetrate the inner ring. It wasn't until numbers 10 and 11 (Harry Mann and Ed Howes) saw the clock ticking down that the runs started to flow. 149 for 9 was a fair declaration with only Tom Rydon failing to get to the crease. The OHJ's returned to the pavilion damp and bedraggled.
With no little irony, Tea was taken in glorious sunshine Then on to the cricket, with Harry Mann steaming in from the top end . His brother, Olly freshened the oppo captain from the bottom end with a waist high no ball full toss with his first delivery. The second elicited an edge and dad Jim pouched it at first slip. In the third over, Mark Semmence, a true run machine against the Buccs, was dropped at second slip. It was a sharp head high chance. Second slip had asked to go there as he claimed to be the best catcher in the team. The captain hoped it would not prove costly. It turned out not to be as yet another shower came down and the umpires had had enough and called proceedings to a halt.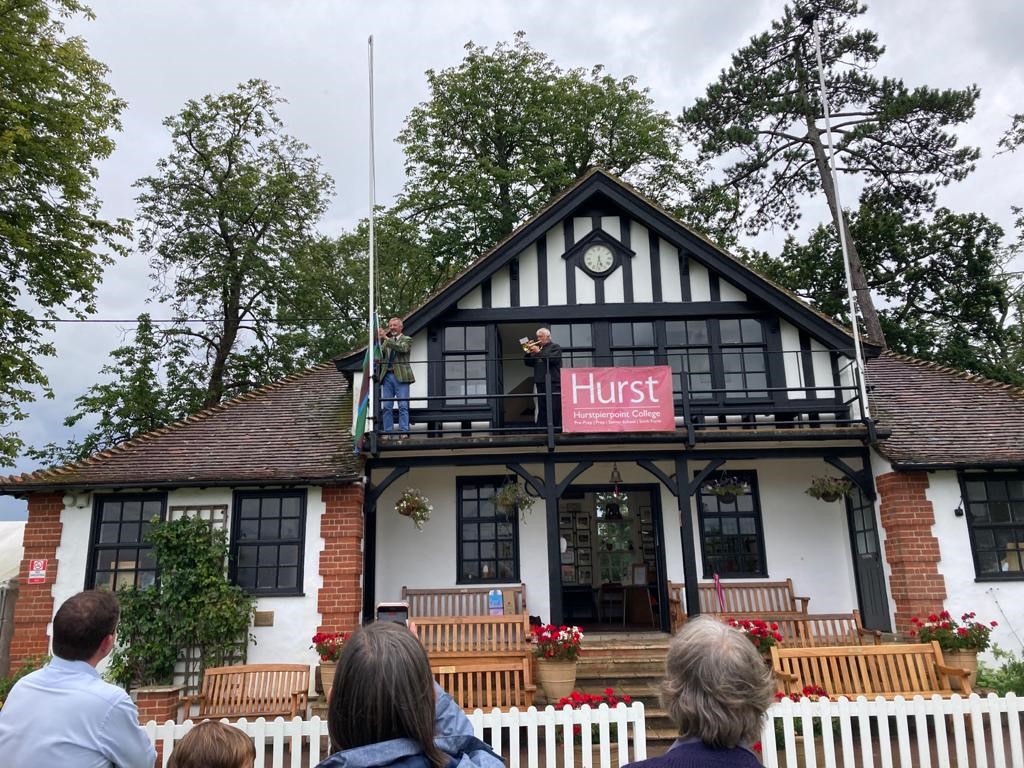 A crowd gathered to hear the closing speeches and listen to the Last Post as the flag was lowered on the OHJ's 100th cricket week.
Innings of Buccaneers
R.RYDON 30
A.RYDON 50
J.MARSH 12
J.MANN 12
T.FLETCHER 22
A.BERRY 0
A.MARSH 4
O.MANN 0
H.MANN NOT OUT 7
E.HOWE NOT OUT 11
T.RYDON DNB
149 FOR 9 DEC
M. HARRISON 6.2.19-0
D.BURSTOW 4.0.14.0
J.LOWNDES 3.0.28.1
P.MCGAHON 5.1.24.1
S.HALL 10.1.39.4
R.HICKMAN 7.2.25.2
Innings of OHJ
C.VIGGON NOT OUT 8
S.WARRENDER CT J.MANN BWLD O.MANN 0
M.SEMMENCE NOT OUT 2
D.BURSTOW, M.HARRISON, P.MCGAHAN, R.COPE, S.HALL,R. HICKMAN, R.WILSDON J.LOWNDES DNB
H.Mann 2.0.9.0
O.Mann  1.0.3.1
12 FOR 1 RAIN STOPPED PLAY