Buccaneers v Newdigate on Sunday 15 May
The following despatch has been received from skipper Paul Hobson:
"Unfort. we lost.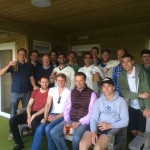 They made 264! In 40 overs. Yes, we need some serious bowling practice. We made we bowled out for 195 top order didn't make enough quickly enough. Spirited middle order but unlucky and comedy wickets! Out."
Shame we didn't get more detail, but it looks like we did our best to drink the fixture back.
Innings of Newdigate
S Roost ct b S Moules 24
M Rome ct and b Hobbs 31
T O'Malley ct b Crichton 68
R Wickremasinghe ct b Leefe 35
D Mares Run out 59
L O'Brien ct and b Hobson 6
S Kehl ct  b S Moules 18
A Kehl st b Hobson 3
D Crook not out 6
M Hussain Run out 1
R Flower not out 0
Extras 12
Total 264-9 (40 overs)
S Moules 8-1-35-2
A Berry 5-0-29-0
R Hobbs 5-0-37-1
S Leefe 8-0-47-1
W Metcalfe 6-0-48-0
J Crichton 4-0-26-1
P Hobson 4-0-38-2
Innings of Buccaneers
J Milne run out b D Mares 61
C Vollers B R Flowers 4
J Crichton lbw M Hussain 9
P Hobson ct b M Hussain 9
W Metcalfe ct b A Kehl 13
S Moules b D Crook 25
A Berry b S Kehl 30
T Fletcher ct  b S Kehl 33
R Hobbs ct b S Kehl 0
S Leefe ct R Flower 1
S Brandes not out 0
Extras 6
Total 195 all out (35 overs)
R Flower 6.2-0-25-2
M Hussain 8-0-34-2
D Crook 8-0-41-1
A Kehl 5-0-22-1
D Mares 4-0-37-1
S Kehl 4-0-31-3