An uncharacteristically hot and dry Betchworth CC played host to the Buccaneers' fixture against Reigate Pilgrims as the June/July/August heatwave showed little sign of abating. As the mercury reached 32 degrees skipper Berry sought to arrange a 30 over thrash. Pilgrims' skipper was, however, having none of it and insisted on a timed game with the last 20 overs from 6.30. Pressure was on to win the toss and Berry duly delivered.
J Marsh and M Harms opened up for the Buccaneers and were greeted by some very tidy bowling from our hosts. With Harms eyeing up a second ton in as many games he snicked off, bringing debutant Sach to the crease. What followed was a masterclass of low risk batting. Marsh and Sach traded boundaries and kept the scoring rate at a healthy 7rpo for much of the innings.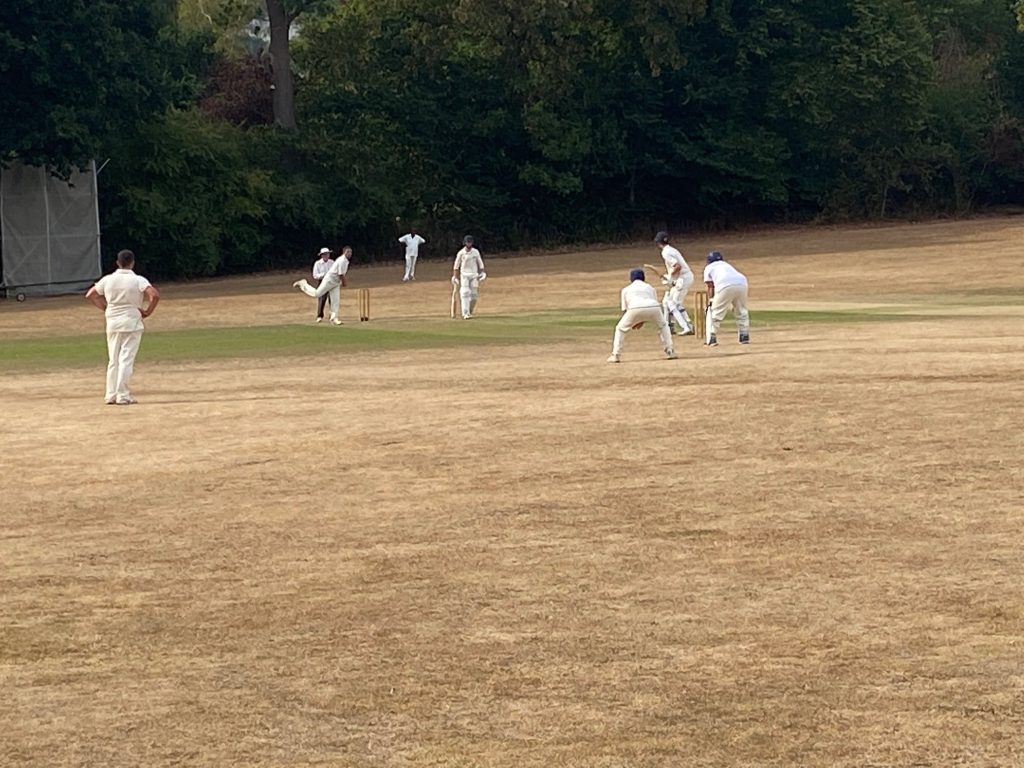 With a hundred in sight Sach was eventually caught by a stunning catch on the boundary 8 shy of what would have been one of the Buccs' quicker tons. Clark and Valentine both came and went in their attempts to help Marsh to his hundred but he wouldn't be denied for long. A towering six brought up not only his first (of what surely will be many) Buccaneers hundreds but the declaration too.
A cracking tea followed accompanied by free flowing ale from the nearby Red Lion to readied the bowling unit for the push for victory. Tight bowling from openers Rydon and Metcalfe kept the scoring in check, helped by a couple of wickets from Will's swingers. The bowling was rotated in the blazing sun and the Pilgrims middle order started to play their shots. Enter J Marsh who followed his batting display with some lovely off spin and was ably assisted by his brother Archie's leg spin in hollowing out the Pilgrims' middle order. Still the big shots came and with 6 overs remaining all four results were still on the table.
Skipper Berry brought himself on and got a couple of wickets (one thanks to the umpire's clear desire to bring a close to proceedings). So the equation for the Buccs was two overs in which to get the one wicket needed for victory . Despite a few close calls, the 10th wicket pair saved the day for the Pilgrims and time was called a draw played out.
A great match played in brilliant spirit, a welcome return to the fixture having been lost for the last few years. The Buccs look forward to returning both to Betchworth and the Red Lion for our House Match later in the year and to play the Pilgrims again in 2023.
Scorecard
Innings of the Buccaneers
J. Marsh Not Out 103
M Harms Caught 4
B Sach Caught 92
G Clark Run Out 2
A Valentine Caught 12
H Robertson Not Out 0
Extras 29
Total 243 for 4 from 32 overs
Innings of Reigate Pilgrims
Total 217 for 9 from 34 overs
Bowler Overs Maidens Runs Wickets
R Rydon 6 1 21 0
W Metcalfe 7 1 36 2
J Marsh 11 2 65 3
E Wedge-Bull 2 0 19 0
A Marsh 4 0 39 2
H Robertson 1 0 4 0
A Berry 3 1 5 2
Result – Draw