As so often in recent years, the warming London sun welcomed us to the historic Hurlingham Club. This year battle was to be played over a 40 over format due to some fuzzy Hurlingham heads from the party the night before.
Bucc's skipper Hobbs duly won the toss and elected to field, knowing that Buccaneers have always been a chasing side. Moules and Krunic took the new ball, bowling some fairly economical overs with Krunic taking two nice wickets in his allocation of eight overs. There were two notable injuries in the opening set, Hurlingham suffered a shock boot to eye, having to retire hurt. And Bucc's own Ollie Metcalfe tearing a calf due to a distinct lack of warm up. Twelfth man Michael Harms stepped onto the field in the second over, who you'll hear more of later. Wardy and Leefey took the reins at first change and kept the new batters (surely batsmen? ed.) pinned back as well as two wickets a piece in their spells. Will Metcalfe came on and immediately hit is marks swinging the ball with ease and clearing up the Hurlingham tail. Worth noting that the Buccaneers probably had their best day of catching in the field for some years, with even usually butter fingered Hobbs holding two. Buccaneers bowled out their opposition (9 wickets and one retiree) in the 36th over as the side retired for tea.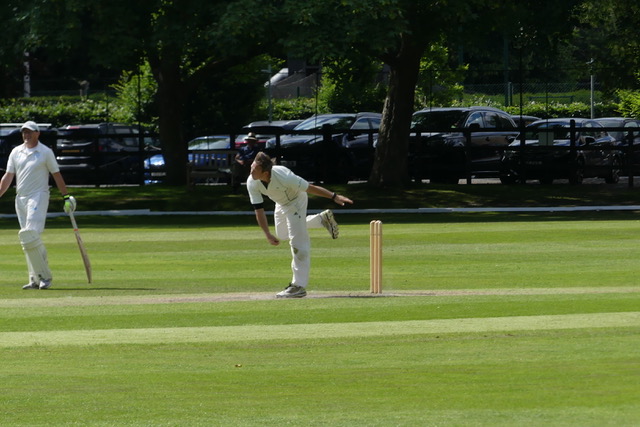 A traditional tea of finger sandwiches and various cakes was served. Accompanied by endless jugs of Pimm's wonderfully prepared by the Hurlingham hospitality team.
Chris Leech and Michael Harms, two of our last remaining 'proper' Saturday cricketers opened up the Bucc's line up. Leech's eyes lit up again at the prospect of being able to crunch a couple of fours across the croquet lawn outfield without having to run a single for his 8 from 10 balls. Crighton came in at three scratching around for 13 from 20 (comprising 3 fours) and Berry's stint at four saw some free-flowing arms before falling for 20 runs. Throughout these falling wickets the Harms constant remained. He stood at the other end harbouring strike and striking boundaries at an enviable rate. His final partner in crime was Moules who complimented him well on his way to a sixty ball century and guiding the Bucc's to a seven wicket win in 23 overs.
Thanks go to both sets of players, officials and scorers. As well as the great support received from the sidelines. The game was played in good spirit and we thoroughly enjoyed and overstayed our welcome to the wonderful Hurlingham Club once again.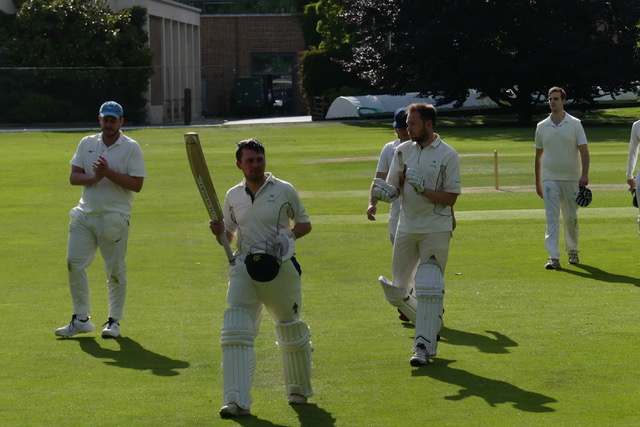 Innings of Hurlingham Club
Peterson ct Ward b Krunic 20
Logan ct Fletcher b Krunic 15
Tidwell ct Leefe b Ward 47
Dickins ct Moules b Leefe 1
Robyns ct Hobbs b Leefe 11
Vail lbw Ward 2
Chapman not out 26
Cripps ct Hobbs b W Metcalfe 11
Salt b W Metcalfe 8
Nunerley ct and b W Metcalfe 0
163-9 (35 overs)
Bowling
S Moules 6-0-36-0
Krunic 8-2-38-2
Ward 8-024-2
S Leefe 8-1-29-2
W Metcalfe 4-1-14-3
R Hobbs 1-0-9-0
Innings of Buccaneers
C Leech b Robyns 8
M Harms not out 108
J Crichton ct Tidwell b Robyns 13
A Berry b Logan 20
S Moules not out 12
Extras 5
166-3 (23 overs)
Bowling
Peterson 4-0-26-0
Robyns 5-1-20-2
Cripps 3-0-30-0
Salt 3-1-4-0
Logan 4-1-25-1
Chapman 3-0-42-0
Nunnerley 1-0-8-0