This was the Buccs first visit to Frensham's pretty ground.  It has an embankment the size of a small Alp at the top end and a vertiginous drop along the boundary at the bottom; not the place to take a catch running backwards – as if any of us would.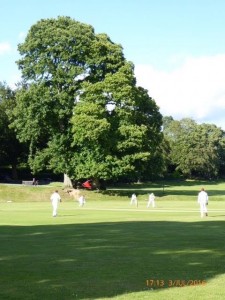 The topography makes for short straight boundaries.   I am glad to report that the captains agreed to a declaration game.  The wicket looked green and your captain decided to field.  Unfortunately, he lost the toss and the decision was made for him – we were in the field under a bubble-clouded but thankfully rainless sky.
Rob Rydon opened our bowling from the bottom end and soon put the poor innocents to the sword, dismissing their first three batsmen for a pittance.  By the end of a characteristically accurate spell of 8 overs (half of them maidens) he had 4 wickets for 6 runs, an admirable performance.  One of his victims fell to a quick-thinking Charlie Leefe at third slip, diving splendidly to take the ball popped-up by Tom Fletcher at second slip.  At the top end, the quality of Rob's bowling was matched by that of Paul McCann, who took one for 24 in his 8 overs.
Having trawled 5 wickets for barely 50 runs, we were faced with an elusive fish at number 5, one M. Taylor, who defied us with the effective tactic of stepping away from nearly every delivery and invitingly exposing his stumps.  But leech-like, he survived.  Time to cast away our net and turn to the deft rod and fly of Steve Brandes, who twirled away for 11 overs from the bottom end, taking 3 for 29, one falling to a lightning stumping by Andy Morgan, who kept with the agility of a teenager and bagged two catches.  Yet still Taylor remained, gaining in confidence.  At the top end Angus Berry doggedly tried his luck but for no reward.  He was replaced by Charlie Leefe who bowled his leg-spinners cunningly and accurately but even he could not winkle out the stubborn Taylor.  Which irresistible force would overcome the immoveable object?   Our President took the stage and with his usual guile removed the last two wickets – but not Taylor, who left the field with 59 not out.  Only two other batsmen reached double figures (just) and Frensham ended with 127.
After a memorable tea (we must play Frensham next year or at least eat there) James Stringer and Simon Leefe began our reply.  Both looked assured and took us much of the way before James fell for 23 when the pair had posted 50 together.
Unfortunately, Angus Berry did not manage to add to that and Simon was then dismissed for 29, leaving us at 67 for 3.  He had been joined by Tom Fletcher, who accumulated his runs elegantly and with Rob Rydon almost saw us home, being dismissed for 33 when the total was 117.  Rob was joined by Paul McCann who did not have much of a chance to demonstrate his skill (one 4) because Rob clearly needed to get home early.  Of his eight scoring strokes six were boundaries (four 4s, two 6s), including the final hit to win the match.  A victory by 6 wickets.
Frensham
P. Chuter             ct Morgan           b. R. Rydon            0
A Pailings             l.b.w.                     b. R. Rydon            3
R. Champneys   ct Morgan           b. R. Rydon            7
M. Smith              b.                            McCann                  4
M. Taylor             not out                                                 59
J. Barton              ct. C. Leefe         b. R. Rydon            0
D. Smith               b.                            Brandes               13
S. Lyford              ct. Stringer          b. Brandes             7
H. Baldock           st. Morgan          b. Brandes             1
B. Weeks             b.                            Woolfries            12
R. Chuter             b.                            Woolfries               0
Extras                                                                                    21
127
O.           M.          R.            W.
R. Rydon              8              4              6              4
P. McCann          8              3              24           1
S. Brandes           11           1              29           3
A. Berry                6              1              27           0
C. Leefe                7              2              22           0
S. Woolfries        2.3          0              6              2
Buccaneers
J. Stringer            l.b.w.                     b. Baldock           23
S. Leefe                l.b.w.                     b. Pailings            29
A. Berry                ct                            b. Baldock              0
T. Fletcher           l.b.w.                     Smith                    33
R. Rydon              not out                                                 31
P. McCann          not out                                                    4
Extras                                                                                       8
128