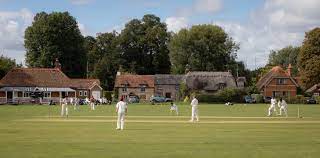 The only thing different this year was the welcome return of the match tea. In most other respects it was a repeat of the 2020 fixture, with Warborough & Shillingford comfortably holding on for a draw but without challenging the target. How we yearned for a repeat of that famous draw when scores were level.
This game, too, included a notorious run out. Asked to bat on a bright morning, the Buccaneers began in calamitous fashion. Taking rather too seriously his opening partner's comment that he had his laptop and plenty of work to do by the boundary's edge, Angus Berry saw off Eswar Kalidasan in a yes-no-sorry mix-up. From then on it seemed plain sailing, at least until the uneven bounce became no bounce, and both James Marsh and Angus Berry were bowled in quick succession after deliciously fluent 30s. Enter the old guard. Going through the gears, rolling back the years, Simon Leefe and Rob Rydon notched another century partnership and set the platform for the selfless Archie Marsh, the crisp-hitting Stephen Moules and the still-unbeaten-at this ground Tom Fletcher to bash the Buccs to a declaration at 245-6 from 40 overs. The final 5 overs were 5-0-62-3.
From then on the game, like the bounce, somewhat died. Will Metcalfe opened up proceedings and was unlucky not to draw first blood. Angus Berry whirled delightfully at the other end, bowling a fabulous opening spell that brought two wickets. The first atoned for the captain's botched run-out attempt, the second bamboozled everyone with drift, bounce and movement. The pitch was made for James Marsh to be match-winner but, alas, a migraine immobilised him. W&S's provision of a replacement fielder on rotation was much appreciated, and perhaps they should have been thrown the ball, but as it was all 9 Buccaneers outfielders had a try but in the end failed to extract enough from an increasingly lifeless pitch and an increasingly determined batting card. When it was – perhaps belatedly – Simon Leefe and Rob Rydon's turn, they both made breakthroughs, Rob Rydon making the ball talk more than it had at any time in the match. Perhaps with a bit more sharpness in the field and some luck with the marginal LBW decisions, we could have taken all 10. Perhaps we should have declared sooner. As it was, after 47 overs of doughty defence, the game drew to a close and the players ambled to the Six Bells to reflect on the day. Hoping that next year sees the return of the famous luncheon. And perhaps a different result.

Innings of Buccaneers
Angus Berry b Hassan 31
Eswar Kalidasan run out (Johnson / Ward† / Hassan) 0 James Marsh b Hassan 33
Simon Leefe run out (Rainbow / Ward†) 47
Rob Rydon c Rainbow b Hanson 62
Archie Marsh st Ward† b Iswariah 11
S Moules not out 23
Tom Fletcher not out 5
Extras (6 byes, 3 leg-byes, 8 wides, 13 no-balls) 30

Total (6 wickets, 40 overs) 245
Fall of wickets: 1−1, 2−72, 3−73, 4−184, 5−216, 6−218

Bowling
Ian Potter 5 0 20 0
Junaid Hassan 11 3 41 2
James Tilley 7 2 29 0
Logan Rainbow 4 0 21 0
Adrian Zagoritis 5 0 29 0
Jamie Hanson 4 0 48 1
Rohan Iswariah 3 0 29 1
Andy Hobbs 1 0 21 0

Innings of Warborough & Shillingford
Andy Hobbs lbw b Okines 61
Ian Potter c Okines b Berry 1
*Adrian Zagoritis b Berry 11
Rohan Iswariah not out 34
Freddie McElwaine-Johnn b Rydon 26
Logan Rainbow b Leefe 1
James Tilley not out 8
Extras (6 byes, 3 wides, 1 no-ball) 10

Total (5 wickets, 47/47+ overs) 152

Will Metcalfe 7 1 25 0
Angus Berry 10 3 19 2
R Hobbs 6 1 15 0
S Moules 4 0 16 0
Archie Marsh 7 1 30 0
Warwick Okines 4 0 26 1
Simon Leefe 5 2 5 1
Rob Rydon 3 2 5 1
Eswar Kalidasan 1 0 5 0